Post by Kuro Okami on Jun 1, 2011 16:08:12 GMT
I AIN'T SETTLING FOR JUST GETTING BY
[/color]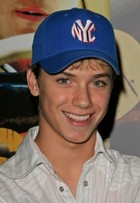 I'VE HAD ENOUGH SO-SO FOR THE REST OF MY LIFE[/CENTER][/size]
WE'RE ALL LOOKIN FOR A HAPPY ENDING
[/color]
EVERY DREAM OF WINNING[/center]

full name:Kuro Okami
nicknames: The Silver Wolf
birthday: Feb 25
age: 15
status: Citizen
orientation likes girls

[/size][/blockquote]
GREW UP ON A TIGHTROPE, LEARNED TO SMILE
[/color]
EVEN WHEN I WAS FALLING DOWN[/center]

hair color: Permanently white, very spiky
eye color: Icy Blue
height and weight: 4 feet, 99 pounds
distinguishing features: He wears gear thats conpletely covered in silver paint, hence the title.They even glint in the light like actual silver. He wears shin-length combat shorts, a sleeveless jacket, a sleeveless shirt thats actualy white and not covered in silver paint , and a steel paintball mask, polished to a silverish gleam, and sliver painted combat boots.He wears silver fingerless combat gloves.His hair is Permanently bleached white. He also has a large scar from a silenced pistol on his side


face claim: Jermany Sumpter
[/size][/blockquote]
OUT WHERE YOUR TROUBLES CAN'T FIND YOU
[/color]
OUT WHERE YOU LEAVE THEM ALL BEHIND[/center]

likes: fish, eggrolls, rootbeer, relaxing, having fun.
dislikes: SMILE, traitors,lairs, being called shorty, milk.
strengths: He's increbibly strongwilled. He was also taught how to fight with a Lazer Blade by his father, who taught Kuro everything he knew.
weaknesses:A little bit naive.He's also very stubborn. He likes to do things on his own, and he isnt good at mind tricks.
fears: That he can fail, dying before he completes his goals.
goals: Take down SMILE, avenge his parents.
personality overview: He's equal parts grim and carefree. He's had a rough time with it, but he can laugh and have fun with the best of them. Unfortuanilty,due to the fact his life was ruined by SMILE, he can lapse into a grim mood, where he just wants to be left alone.But,fortunately, those dont last long, and he's right back to pulling pranks and other fun things.




DEAR MOM AND DAD, I'LL SEND MONEY
[/color]
I'M SO RICH THAT IT AIN'T FUNNY[/center]

mother: Sakura Okami, Citizen,historian.(Dead)
father: Joe Okami, Citizen,Ex-soldier.(Dead)
siblings: None
others: None
hometown: Originally from a small town in Missouri, his family moved to London 6 years ago.
history:His parents meet in Missouri. His mother, a Japanese woman, and his father an ex soldier born in that state. They clicked, and were married, Joe taking his wife's last name. Along came Kuro. They raised him in Missouri for 9 years, and then moved to London 6 years ago,hoping to start new beginnings. About a year ago, SMILE killed his parents in front of him.Kuro took up his fathers Lazer Blade and went out to get revenge, adopting a new identity....THE SILVER WOLF! So far, the Wolf has struck only by by doing some lightweight theiving, but when he joins the Rebellion,watch out SMILE!

[/size][/blockquote]
JUST A HOMETOWNGUY
[/color]
BORN A ROLLING STONE[/center]

alias: Ake
rp experience: since middle of 2010
have you read the rules? yes
where did you find us? Paradise Pier rp
[/size][/blockquote]