Post by Seychelles on Sept 5, 2011 19:39:40 GMT
Be one with Russia. Ivan would often say this to the countries, but they never thought much about it. Even when Toris, Eduard and Raivis gained their freedom he often came to the trio, telling them to return and be one with him. Most countries just shrug it aside and never pay any attention to what Ivan was talking about, they flat out refuse to be controlled by Ivan. This wouldn't do it. No longer will Ivan give them in a choice in the matter. Too long he has "asked" them to become one with him and they refuse. Everyone will have no choice, but to be one with Russia.
All across the countries people have been getting deadly sick and as a result to this illness, the nations have become weaker due to their population dropping dramatically There were few nations that didn't get this strange illness. Ivan was using chemical warfare and he'd continue until the countries agreed to give him what he wanted. Ivan didn't wait for all countries to feel the effects. He went around telling everyone right away what he'd done and the only thing to do to stop it would be to join him and make their land Russian land.
The Baltics, Ukraine, Belarus, Italy, Canada and Sealand have already become part of the Russian Federation. Note that this is just a summary of the plot since our actual plot is much more detailed than our summary. You only need to have a basic understanding unless you play one of the characters that's mentioned in the plot. Should your character be part of the plot, you'll need to read the full plot.
The characters in the full plot are: America, England, France, Germany, South Italy, North Italy, Germany, Prussia, Japan, China, Russia, Sealand, Belarus, Ukraine, Lithuania, Estonia and Latvia. For these characters you
must
read through the full plot.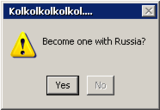 Site Information
Friendly/active staff members.
300 word count.
Very dark plot.
Just started so lots of characters up for grabs.
Quick log in.
Very quick/easy application.
Accepting original characters in the future.
Easy to follow timeline.