Post by Nadya Thompson on Jul 25, 2011 10:35:14 GMT
[atrb=cellSpacing,0,true][atrb=cellPadding,0,true][atrb=border,0,true][atrb=bordercolor,black,true][bg=black]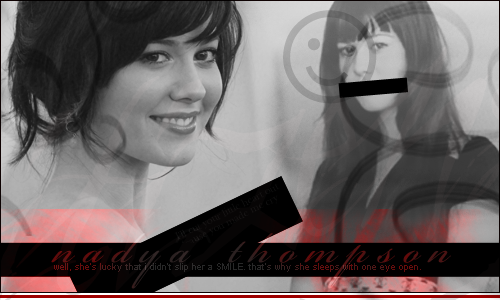 [bg=black]
The city was the colour of a cut diamond in white gold. It was so bright she could barely look, like the sort she'd sometimes seen in the local jewellry store on her way past, the sort that meant the clerk had to be able to smell the money on your filthy-rich hide before he'd let you in twelve feet of it. And money? She snorted, brushing a stray strand behind one ear. That happened to be the one thing a student artist was a black hole for. Paints, pencils, sharpeners, canvas, the list went on. And, of course, then you could get more specific: HB pencils, graphite, Faber Castell or just Faber, watercolours or oils, cheap or with pigment coming out of the eyeballs. Soft canvas, rough canvas, A4, A5, custom, floor-length, like some kind of curtain. And that was just the basics.

She glanced down at Vinnie who, for once, was staring obediently up at her with chocolate-coloured eyes. He received a warm grin for his troubles, and a gentle stroke. He was being so docile that when, like a needle-clawed shaft of lightning, he shot up her arm and curled himself inside her collar, she nearly leaped out of her skin. No matter how long she'd had the bundle of fanged and furred fury, he moved like the aforementioned shaft if it were greased, and catching her off-guard seemed to be his hobby. She took a deep breath, racing heart slowing as the little ferret cocked his head at her and blinked.
"One day," she sighed, scratching under his chin just where his harness chafed, "you are going to do that in the middle of traffic, and I am going to have a small seizure."
She chuckled as Vinnie chirruped at her, and she rummaged in her chest pocket for the small bag of treats. "I hope you think near-death is worth this," she lectured, offering one to him. It was gone before she could blink.
"Thought so."
With his carry-bag in one hand and her messenger-bag clasped in the other, Nadya continued slowly down the street, the real smile slowly fading into the same cheap mask she saw on the people around her-- the same mask that was now second nature. She tried to offer a real smile and a nod of greeting to the people who passed by, but none of them seemed interested in playing nice. 'I guess the game of life doesn't always suit everyone.'

Perhaps Nadya's reason for being out of school, and work, on a Monday morning, should be explained. It wasn't just that she did have a life outside the aforementioned institutions, hard as it was to put a finger on. It was also that she needed something worthy of painting, and with Vinnie's help, she needed someone worthy of it. The cheap digital camera in her pocket should do the trick-- it did pretty good quality images, for all that it was a cheap knock-off from five years ago. That was, what, maybe fifty years in technology terms?
She eyed the streets, from the lizard-skinned pavement to the sleek, bullet-shaped cars lining its edges. There was nothing here that she hadn't seen a thousand times before, but she snapped a few shots anyway, turning one upside-down for good measure and chuckling as Vinnie clambered onto her arm, turning the next frame blurry and placing his furry mug right in the middle of the one after. Oh Vinnie. She loved the little rat-snake, but there were times when-- "Do you mind, sweet-cheeks?" she laughed, as the ferret started to gnaw on the wrist-strap.
[/size][/font][/td][/tr][/table][/center]